This week's Friday Feature is a bit late due to some technical difficulties--my apologies!

The featured shopkeeper this week is fiber artist Jill Verbick-O'Leary of West Bend, WI. Jill has an "awesome new husband" (congratulations to the newlyweds!), two grown sons, two teenage stepchildren, and a new granddaughter. "I love to make fun things for her! I think it's so very important for mothers to have a dream and show children how to reach their goals. It's good to show them that when you do something you love, work can be joyful and fulfilling."

I asked Jill how she got started working in fiber. "My grandma and my mom were very creative women and taught me so much. As one of seven kids, I had to make what I wanted, if I wanted it. So, I've always been very creative. I am grateful for the gifts the women in my life gave me, so a feeling of love and tradition runs deep in my work. I don't think my grandma would have made crowns or plush, but I know she would have encouraged me to play and experiment. Now that I am a grandma, I hope to teach my grandkids how to make anything their heart desires."

Jill opened her Etsy shop with "a few crazy plush monsters and a few tiaras and crowns. I was creating items for possible publication. My plush made it into Stampington and Company's Magazine, Stuffed - A Gathering of Softies two issues in a row. That gave me the confidence to move forward in Etsy with pincushions, jewelry, and other sewn items."

Jill's items stand out because of the heart she puts into them. "I hope that my work reflects my passion and the absolute joy I feel when I create. I use a lot of stitching and embroidery in my work. I love how (that) leaves a very personal mark. I like to alter materials by ripping, dyeing, scrunching, cutting and adorning them until they are unique to me and my vision. I am influenced by other artists because there are so many amazingly talented people out there. I'm often in awe of their innovation. I try to carry their courageous playfulness into my (own) work, but it is so important to be original and true to your own creative spirit."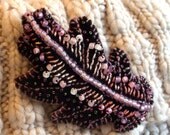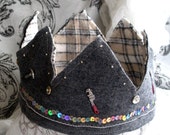 Jill wants her customers to know that she makes her items especially with gift giving in mind. "I envision my work as gifts from one person to another. For example, my crowns and tiaras are designed for specific people we all know and love. My 'Life Is Just A Bowl Of Cherries' crown is for that woman who always has the right thing to say. She helps you celebrate but can also turn a bad day into a pile of giggles. My 'A King Among Men' is a crown for Dad, an homage to the guy who can fix anything, including a broken heart or skinned knee. I have so many more crowns and tiaras to make, because I have been very blessed to have met and cared for so many special people in my life.

When she isn't creating her work, Jill loves to sketch and paint, 'play in the dirt' in the garden, and spend time with her husband and family. She also enjoys walking as exercise, and laughing and relaxing.

Jill was previously a full time portrait artist. "I had work in, and also managed, a gallery, and exhibited all over the state in a number of galleries, museums and art centers. But, I had to give it up when my eye sight changed dramatically because of health issues. As an artist, that was a very hard thing to accept." After a year of struggling and mourning her loss, Jill decided to sit down and work on her sewing. "It's still hard, but there are many helpful tools to use. It is so important to live every minute of every day celebrating and appreciating the gifts we use to create. I treasure each and every day I can see this beautiful world."

I asked Jill what she feels is the best part of being an artist. " I really love the connection artists share. We are all kindred spirits. Artists are some of the most generous, happy, and inspiring people I know."

Jill sells her items exclusively on Etsy at this time, but she has quite an impressive presence on the web. You can find her own web site at www.jverbick.com. Her new blog is called Sew Old Sew New and can be found at www.sooldsonew.blogspot.com. Jill is on Facebook at www.facebook.com/pages/Sew-Old-Sew-New/169251319824797, on Pinterest at pinterest.com/jillv/.

Jill highly recommends the Martha Stewart site, Doers into Dreamers. She is also there at dreamers.marthastewart.com/profile/JillOLeary.

Thanks to Jill for this week's peek into the life of a Moo Crew artist!
Friday's Featured Fabricator will be taking two weeks off while I'm in Germany. Watch for the return of this feature in early November, just in time for the holiday season!