The Friday Feature is back (even if it is Saturday!), and t
his week's featured artist is Amanda of Pretty Turtle Boutique!
I asked Amanda to introduce herself. "I'm Amanda, 28, girlfriend to Chris, sorta step mom to Dustin(15) and Daisy(9) and official mom to Samantha(7). I live and create hair bows and clips in Mayville, Wisconsin."
Amanda's business name came from her daughter's favorite stuffed animal. "When Samantha was younger she had a stuffed turtle she took EVERYWHERE! She loved it more than anything. It was adorable and its name was 'Pretty'."
Amanda was an Etsy customer before she began selling her own items. She started off buying hair bows and clippies on Etsy for Samantha and herself just holidays and special occasions.
"(Samantha) was always such a good baby/toddler who let me do anything to her hair. Whenever I put cute little bows in we got so many compliments and I loved matching all her outfits. I've always been fairly crafty so one day (and many Etsy purchases later) I decided 'I could totally make these myself'." Her very first item was made for a friend. "A girlfriend of mine asked if I could make something to match her daughter's gymnastics leotard for a big competition."
Amanda uses the best quality materials in her products. "I pride myself in using high quality ribbons and clips. Almost every one of my bows is unique....I rarely make more than one!" Custom orders are her specialty. "The pictures you see are just my ideas. Custom orders are welcome and encouraged!"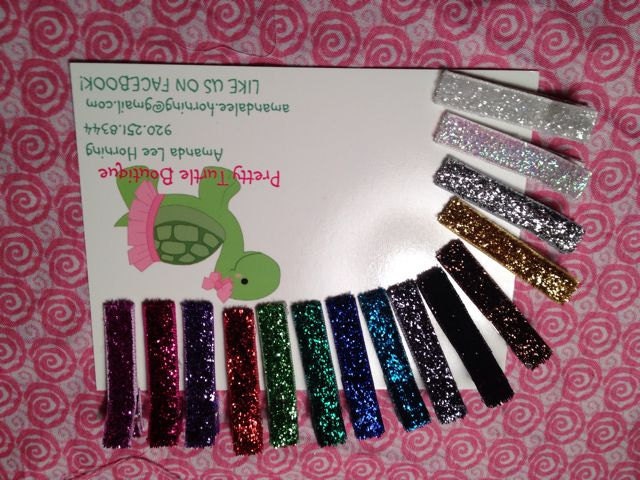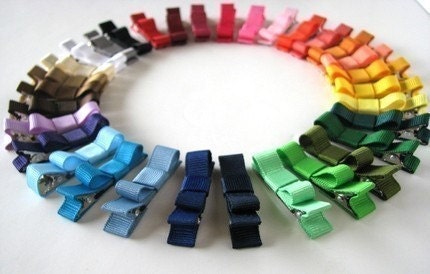 When she isn't creating, Amanda works from home "for the best company in the world, Apple." She is also a self proclaimed 'deal diva'. "I will spend hours doing research before buying something to make sure I found the absolute best deal!"
I asked Amanda her opinion on the best part of being an artist. She replied, "Doing something you love and sharing it with others and getting emails from customers."
You can find Pretty Turtle Boutique on Etsy at http://www.etsy.com/people/PrettyTurtleBoutique You can also find Amanda on Facebook: www.facebook.com/prettyturtleboutique
Thanks to Amanda of Pretty Turtle Boutique!