The featured Moo Crew artist this week is Monica from Subarashii. She creates cards, art prints, and other paper goods from her personal designs.
I asked Monica to give some background about herself. Monica lives in Fairchild, Wisconsin, where her mother, grandmother, and many other relatives grew up. "I was born in California, but when my parents moved back here 5 years ago, it no longer felt like home without them close by, so I came to Wisconsin to join them! I work from home, on the family farm, in a lovely little room which I've made into a craft space. Since we've had an early spring I can see the green fields from my window; it's such a peaceful place to work."
The name of Monica's shop, Subarashii, means "splendid" or "wonderful" in Japanese. I asked her how she chose the name. "When I was in college I studied the Japanese language and lived in Japan for a year attending an art school as an exchange student. My work is very much influenced by the simple happy designs of the artists I met and studied there. It is my hope that my art will help you to take joy in all the wonderful things about life, which is why I chose a Japanese word that means "wonderful"! I also really like the way it sounds: sue-bar-ah-she-e! It's just fun to say."
Monica grew up in San Diego, and made frequent visits to the Zoo and Sea World, and drawing animals became her inspiration in beginning her particular genre. "Drawing (animals) is fun and relaxing, so most of the designs I've done for Subarashii are naturally of animals, but I also really enjoy drawing people so you may see some more designs with different characters soon."
Monica's first items on Etsy were different from her current offerings. "I have a degree in Art and have studied and practiced drawing and painting for as long as I can remember. I had tried selling different art pieces on Etsy before without much success. I like to work in a variety of mediums and artistic style, but for Etsy it really helps if you have a niche. So, this year I really wanted to give my shop a distinct identity. I was looking through all my old work to see if there was a style I would enjoy working in exclusively. I came across a pair of paintings I had done of a penguin and a canary looking at each other and realized that it would be really fun to draw these characters in the computer and do more work inspired by their simple design. That's how I came up with my characters Penguin & Peep. The first drawing I did of them on the computer, which I've used for cards, prints, and bookmarks, is what I consider the first realy piece for my Subarashii shop, although I had posted items previously."
Monica has found her niche, and that's what makes her items stand out. She employs technology heavily in her art as well. "I don't copy anyone else's characters, all are original designs. I draw most of my pieces freehand straight into Photoshop using a Wacom Intuos tablet on my home-built PC. I do all the printing myself with an Epson printer. Working directly in Photoshop allows me to quickly get solid shapes of color upon which I build my characters. You won't find cute designs like mine anywhere else!"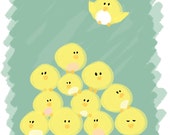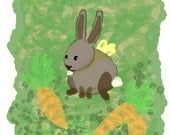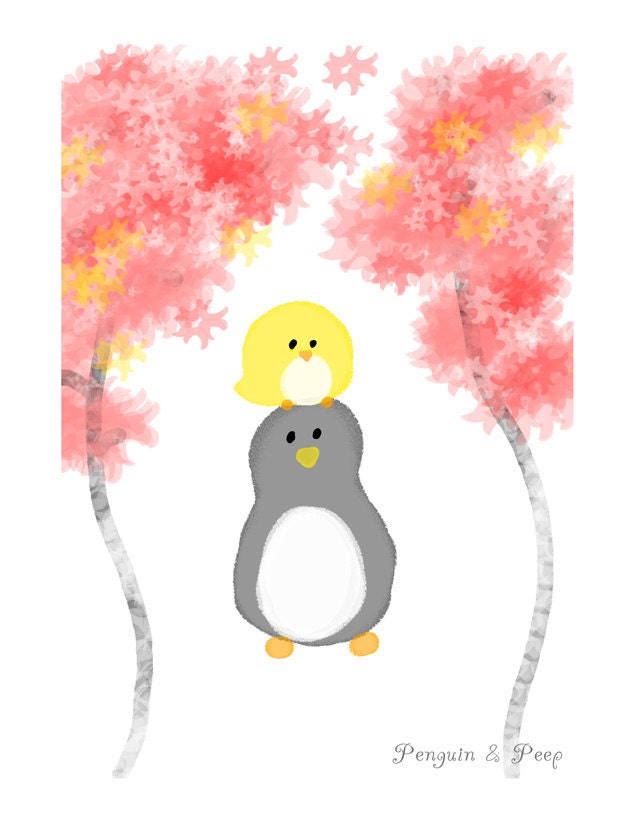 Through Subarashii, Monica hopes to give her customers a message. "It is my hope that you will enjoy my designs and be reminded through them of all the good things found in this life. God has made us a wonderful world so take time to appreciate the beautiful things in it a little bit every day!"
Monica loves to travel. She has visited three continents, and about 15 countries. She has lived in two of those countries in five separate cities. When she isn't creating her pieces, she spends time with family and friends and enjoying the outdoors by walking, biking, or shooting a bow.
I asked Monica what she thinks is the best part of being an artist. "Getting to create work that is personally satisfying and that other people enjoy really makes it worth it. The characters that I draw, I draw because I like themand it makes me happy, and when someone else likes what I've done it's a great feeling!"
You can find Monica's work on Etsy at

http://www.etsy.com/shop/subarashii She also has a personal website where you can contact her for freelance projects, at www.subarashii.net, and she publishes a blog at www.artofmonica.blogspot.com, where you can find the most current updates on her art.
Many thanks to Monica of Subarashii!