This week's featured Moo Crew artist is Leah of New Vintage Old Skins. I want to thank Leah for her patience with me in getting this feature posted!
I asked Leah to introduce herself.
"I have been happily married to my husband for almost 32 years. We have five kids, a son-in-law, and two incredibly beautiful grandchildren. The youngest was just born on Memorial Day! We live in Elkhorn WI on 1/2 acre where I garden, listen to the birds and craft continuously. I have a 'studio', a room off the garage where I sew, and it's overcrowded with all of the materials I will some day get to. I have taken over the garage with all of my large projects--refinishing, upcycling, and repurposing others' castoffs from garage sales, attics and thrift stores."
Leah chose the name "New Vintage Old Skins" from a mix of a Bible verse and her love of putting old things back to new use. "New wine in old skins...old vintage stuff into new useful items. Hence the name!"
Leah got started sewing as a child, in order to make clothing for her dolls. "As a kid, my mom would not make me doll clothes, so I had to do it myself. I was about 4 or 5 and my mom showed me how to 'fashion' makeshift clothes out of Kleenex and tape. A short time later, she showed me how to use a needle and thread. It was a great time of inventiveness and experimentation that has led to my innate attention to detail and making sure everything is perfect."
The first of Leah's items was made after a meeting in the 90s with an older woman who showed her a 'yo yo' quilt. "She was trying to get me to give her the fabric scraps I had, but I am very possessive of my stash. I listened intently to the directions on how to make the yo yos and voila! I couldn't stop!"
The materials used to create the items in the New Vintage Old Skins shop is most often recycled. "I almost never buy brand spanking new fabrics to create a yo yo quilt. Traditional yo yo quilts are made for a young girl's hope chest. (A girl) had to collect a certain number of different fabrics, and each had to be unique. The piec
es were usually left over from other sewing projects." In keeping with this tradition, Leah uses castoffs and leftover pieces--her way of upcycling to reduce items going into the landfill.
Yo yo quilts from New Vintage Old Skins are completely sewn by hand and painstakingly planned to be unique in every way. "They are heirlooms that will last through generations to come. I love creating all kinds of items, all with attention to detail and quality. But the yo yos are my prize feature."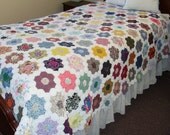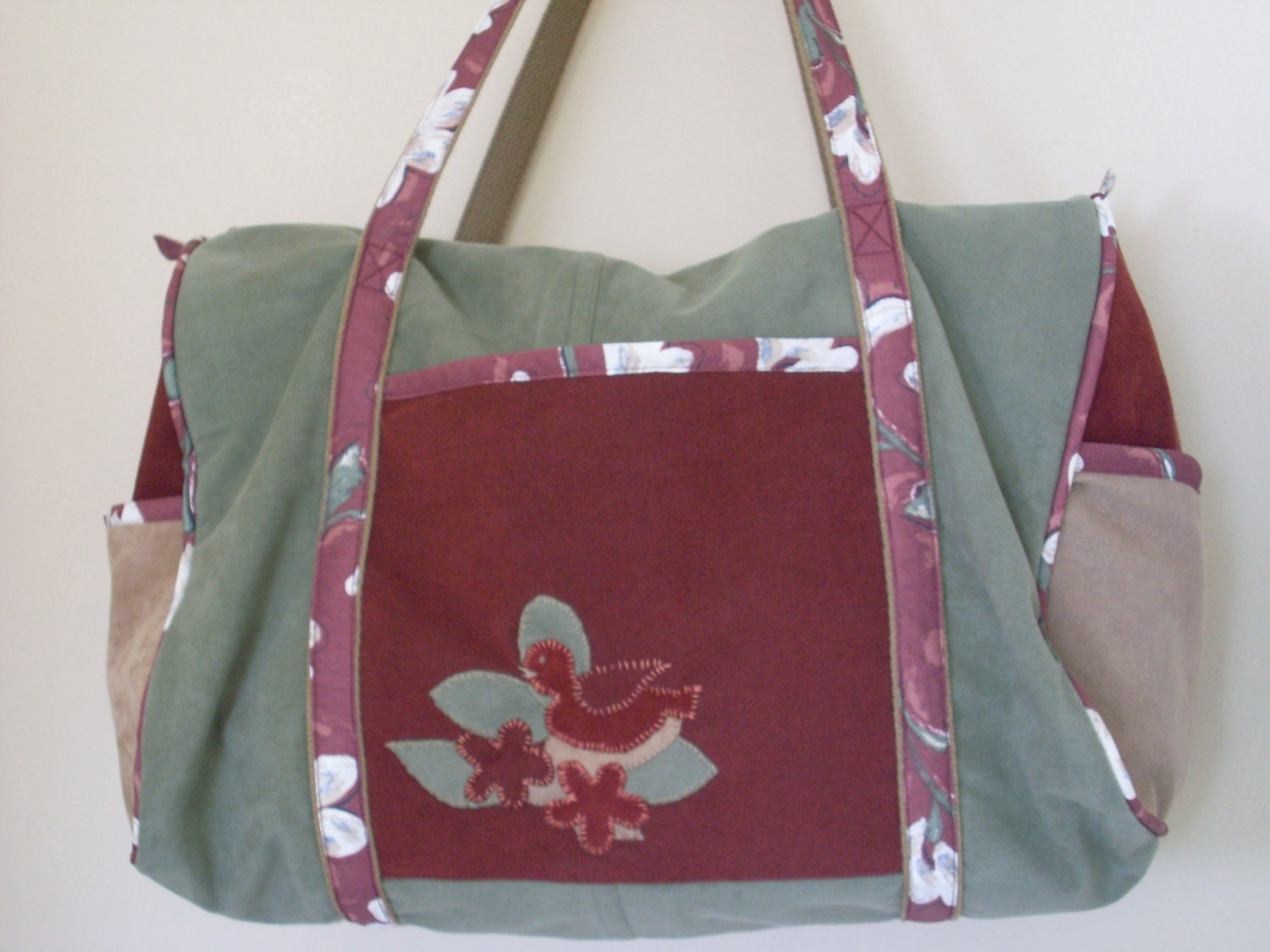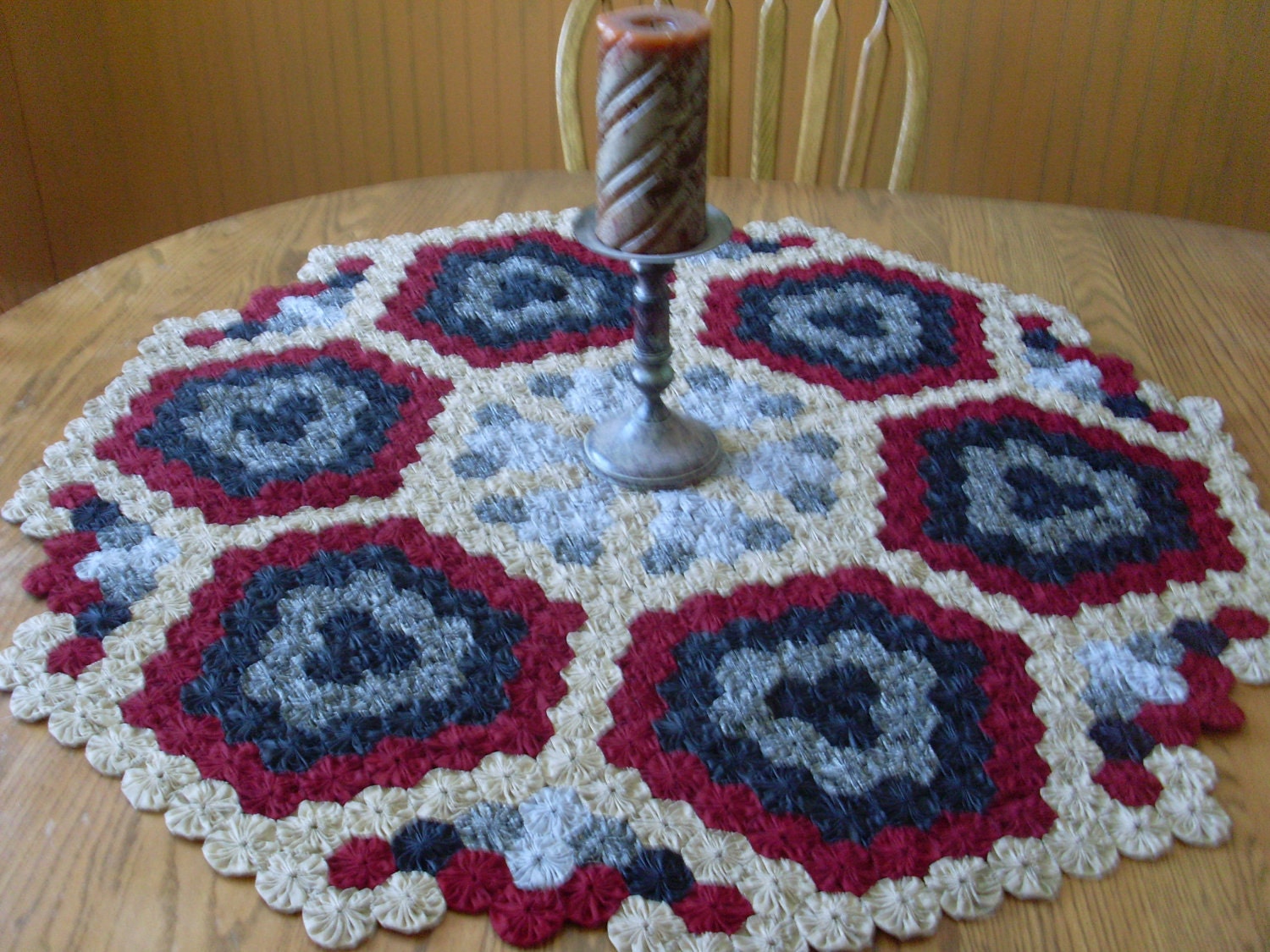 When she isn't creating, Leah is thinking of her next creation, or sleeping! "My mind never stops giving me more ideas to try, and I can't wait to try out each one!"
Leah has a variety of activities that fill her days. "I do alterations, drapery, carpentry, teaching, decorating, landscaping...and fuss about looking like a million bucks. But I sometimes think I was born in the wrong century (because) I garden, can my produce, sew and feel like a real pioneer woman."
I asked Leah what she thinks is the best part of being an artist. "Being an artist is the hardest concept for me to grasp. The world looks at most quilts as a blanket, pure and simpler. I struggle with the knowledge that my quilt was not thrown together in a factory, but made with intent and planned creative purpose. I love that as an artist I have a voice that tells how much I love beauty, the floral, the geometric, the creative process."
Leah's work can be found on Etsy at
http://www.etsy.com/shop/NewVintageOldSkins. She is lining up some craft shows, and is currently expanding to a coffee and gift shop in Elkhorn, WI, called "Friends on the Square". She also sells her items direct from her home studio.
Many thanks to Leah for taking time to be 'interviewed'!